Legend has it that the espresso martini was born when a famous model walked into a bar in London in the 80s and asked for an alcoholic drink that would keep her awake. Nowadays espresso martini is one of the most popular cocktails to make at home, due to how simple they are to replicate.
They are great for a post-dinner drink but they also work at happy-hour when you need a pick-me-up at the start of the night! It is an indulgent, rich, and creamy drink with all of its elements blending perfectly together; it has sweetness from the liquor, depth from the coffee, and a kick from the alcohol!
This drink works great served on its own at a cocktail party, but can also be served as a digestif after a main meal, as the coffee and liquor both aid digestion! No matter what sort of evening you're having, this drink will make for a welcome addition.
Disclaimer: Hi! this post may contain affiliate links which will take you to online retailers that sell products and services. If you click on one and buy something, I may earn a commission, see my Affiliate Disclosure for more details.
There are many very simple recipes for an espresso martini, but for this one, I have decided to put my own spin on it and make more of a luxury version of this popular classic by adding a salted caramel sauce which is also vegan!
This makes the drink a sweeter version of the original and a slightly more indulgent treat too. This version of the espresso martini is perfect for serving at a Christmas party or as a New Year's Eve beverage to pick you up throughout the evening.
How Should I Make The Espresso For The Drink?
There are many ways to make a strong shot of coffee, but for this recipe, I would recommend an espresso machine if you have one. It is what is going to give you that smooth consistency and a highly concentrated shot of coffee. Seeing as measurements are everything in cocktail making, that part is super important here.
Can You Make Espresso Martini Without A Coffee Machine?
If you do not have an espresso machine, it does not mean that you cannot make the drink at all. A stovetop Moka pot will also give you a very strong shot with a comparable flavor and consistency, making it a great alternative to the machine.
Your espresso is going to taste best when it is made freshly before making the drink, so I would recommend making it at the time you are constructing the cocktail rather than the night before.
Which Coffee Liqueur Is Best For Espresso Martini?
For this recipe, I used Jumping Goat Liquor 33% Cold Brewed Coffee-Infused Vodka. This is specially designed to be great in espresso martini, so I have found that it is the best option. It's a sweet, thin syrup which is rich in its coffee flavor, but sweet enough to counteract the bitterness from the espresso.
However, there are lots of options available that can be chosen based on how sweet you would like the liquor part to be. Other popular options such as Kahlua are readily available from supermarkets.
Do You Use Hot Espresso For Espresso Martini?
Yes – especially for this recipe. Because we are going to be making a caramel sauce, it is super important that the espresso is hot, so that when you combine the caramel so it doesn't harden.
You can cool your espresso by using the ice in the shaker after the mixture has combined together. This will give your drink a smooth texture as well as an icy cool martini in the end.
What Makes The Froth On An Espresso Martini?
The signature froth on top of the martini is essential when making this drink; not only does it make it look totally picture-worthy, but it is also what allows the coffee beans to sit afloat on top of the drink.
A frothy espresso martini can be made in a few different ways; the signature layer of froth found in a professionally made espresso martini comes from the coffee being made in an espresso machine. This produces a velvety layer of foam on top of the drink, that you would find in one made at a bar.
However, if you do not have an espresso machine, you can also make the foam using a cocktail shaker! If you use a shaker for your martini and shake the mixture hard; this will ensure that the natural oils from the coffee combine with the air bubbles. After you shake the mix, swirl the mixture for that smooth, creamy foam.
Another option for getting that foam on top is to use half of the whites from one egg, shake them vigorously and add them to the top of the drink. This will not affect the taste or texture of the drink but will give it that aesthetic foam that you want!
How To Make Homemade Vegan Salted Caramel Sauce
1 cup (200g) granulated sugar
6 Tablespoons (90g) vegan salted butter stored at room temperature and cut up into 6 pieces
1/2 cup (120ml) vegan thickening cream
1 teaspoon salt
Method
Add your sugar and butter to the pan, stirring constantly on a high heat
The sugar will form clumps and eventually melt into a thick brown, amber-colored liquid as you continue to stir. At first, the sugar may appear clumpy, as if it is not turning into a sauce, but keep whisking vigorously and it will combine.
Very slowly drizzle in the heavy cream while stirring. As the cream is colder, the mixture will start to bubble, continue to mix until combined.
Remove from heat and stir in salt.
How Long Will The Caramel Last?
If you are making a large batch of caramel, it can be stored in the refrigerator for one month, in a sealed container. When in the refrigerator, the caramel will solidify in the cooler temperature, so when you wish to use it again you will need to reheat it. This can be done either in a pan or in the microwave.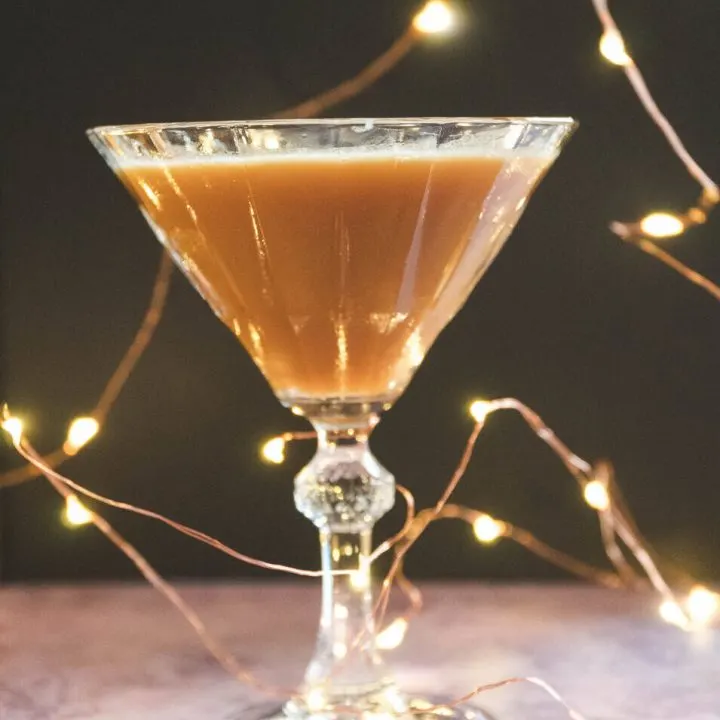 Salted Caramel Espresso Martini
This is a slightly different version of the classic espresso martini as I have added a homemade salted caramel sauce to combine with the espresso. This gives the drink an extra sweetness, which is balanced with the saltiness and the bitterness of the coffee. This drink is a perfect cocktail to make for friends, and also works great as a coffee course for after dinner!
Ingredients
3.38 oz (100 ml) Vodka
2oz (60ml) Coffee liquor
1.7 oz (50ml) Salted Caramel
3.38 oz (100 ml) Espresso, Coffee Pod or Strong Moka brewed coffee
Ice
1 x cocktail shaker (use a large jar with a lid if you can't get your hands on a shaker)
Coffee beans (for garnish, optional)
Instructions
Heat the caramel so that it turns into a liquid.
Mix in the hot espresso with the caramel and combine.
Place this mixture in the cocktail shaker alongside the coffee liquor and ice, shake vigorously for around 30 seconds.
Use the cocktail strainer to pour the martini into a cocktail glass (scrape out the foam too!)
Garnish with 3 coffee beans.

Notes
Pro Tip - keep your cocktail glasses in the freezer prior to serving or add ice/water to the glass to cool it. No one wants a warm espresso martini!
Nutrition Information:
Yield:

2
Serving Size:

1
Amount Per Serving:
Calories:

473
Total Fat:

1g
Saturated Fat:

0g
Trans Fat:

0g
Unsaturated Fat:

0g
Cholesterol:

0mg
Sodium:

524mg
Carbohydrates:

56g
Fiber:

5g
Sugar:

38g
Protein:

7g
I am not a doctor or a dietician. The information I have presented and written within this site is intended for informational purposes only.
More Coffee Articles