It's that time of the year again! Finally, the weather is getting colder, the nights are a little bit darker and we are approaching the most wonderful time of the year! As we head toward the festive season, why not try out making one of the most loved seasonal drinks out there – a gingerbread latte!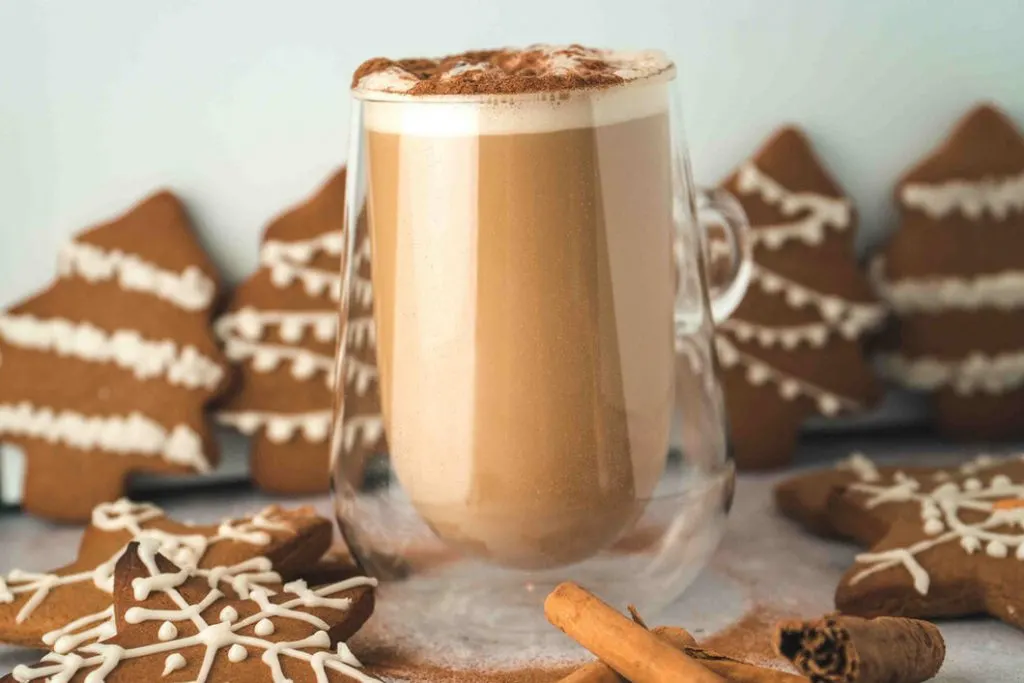 This is the perfect time of year to start trying out some new warming winter drinks; it's cold and dark outside, we want to go out less and less and spend as much time in our pajamas as humanly possible – that means cutting coffee runs to a bare minimum!
That is what is so great about the gingerbread latte – it's so incredibly easy to make, and it tastes just as great as one that you could buy from your favorite coffee shop! The latte structure lends itself perfectly to being made at home, because it's super easy to assemble. Trust me when I say you can have a Starbucks replica in your home just 10 minutes after getting out of bed…bliss.
Disclaimer: Hi! this post may contain affiliate links which will take you to online retailers that sell products and services. If you click on one and buy something, I may earn a commission, see my Affiliate Disclosure for more details.
What's more, taking the time to make this simple, warming latte on a winter morning or evening will give you some much-needed moments to do something nice for yourself this winter. Making a drink like this from scratch is rewarded with the sweet spicy scents that linger in your home and a warm, cozy feeling inside.
What Flavor Is Gingerbread?
Gingerbread is one of the most popular ways to flavor baked goods, especially around christmas time – but what is that flavor that we get when we taste it?
The gingerbread flavor does include ginger, as the name would suggest, but there are a lot of other spices that go into making the famous gingerbread taste that we love so much. On top of the signature ginger flavor, gingerbread is flavored with:
Cloves
Nutmeg
Cinnamon
Allspice
Honey
Sugar
Molasses
These are the most common flavors used in the creation of gingerbread, but the great thing about this mix is that you can try out different spices until you find your perfect combination, like black pepper!
What Is A Latte?
A latte tends to be created with a ratio of 1:3; that is, one part espresso to three parts milk. This is what differentiates a latte from other frothy drinks like cappuccinos.
The reason why lattes are typically used for flavoring, like our gorgeous gingerbread one that we're about to make, is because the steamed milk base acts like a wonderful blank foundation to carry the flavors that you want to include! This means that your gingerbread spice flavors will come through easily with this drink.
How To Make Espresso
There are a few different ways in which you can make your espresso, which will be the coffee base with this drink:
Espresso Machine
This is certainly the easiest way to make espresso at home. Most espresso machines come with pods which can simply be inserted into the machine and automatically make espresso!
Of course, not everyone will have an espresso machine, so I have listed some other methods below by which you can also make espresso!
Moka Pot
Moka pots are great alternatives for making espresso! These adorable little kettles sit prettily in the kitchen and make an espresso-like brew with a super-smooth pour!
Measure our around 2 tablespoons of coffee
Pour 3 ½ ounces of water into the bottom of the pot and pour your coffee grounds into the filter. Gently shake to settle the grounds and screw on the top of the pot. Set on the stove at a medium heat.
When the top of the pot is filled with coffee, pour out and enjoy!
AeroPress
The AeroPress is also a great candidate for making espresso that matches the strength and flavor of espresso from a machine!
Place your filter into the drain cap (using more than one works really well for espresso). Place both inside the press and place the press onto a mug
Use around 2 tablespoons of coffee, drop the grounds into the filter
Add around 3 ½ ounces of liquid (heated to 200 degrees) and stir it with the coffee before pressing the plunger down hard.
French Press
The french press is not the best option for making espresso, but it can still make a highly concentrated shot, and seeing as it's the most common household coffee item it may be the most realistic option for many people!
Use at least 2 tablespoons of coffee – more may be best as it won't come out as concentrated as with the other methods.
Heat 1 cup of water to 200 degrees and add the grounds to the french press
Add a splash of hot water to the grounds to bloom the flavor. Wait approx. 30 seconds.
Pour the rest of the water over the grounds, cover with the lid and leave for about 4 minutes
Press the plunger half way down, then raise it all the way and plunge all the way down using even pressure.
Choosing Vegan Milk For Your Coffee
Personally, I chose to make my gingerbread latte a vegan one – this is an option that a lot of people love to go for in their favorite coffee shop, but it can be hard to replicate as common plant based milks can split.
If you have ever wondered why plant based milks can curdle in your coffee, it is due to the heat and acidity of the coffee. However, with the revolution of plant based milks in recent years there are now barista versions which work amazingly in home made drinks!
The barista versions have stabilizers in them to improve the heat tolerance and structural homogeneity. The oil content in them allows the milk to heat up without splitting the gingerbread latte flavor. Therefore you can get coffee shop style coffee at home.
After much trial and error with this recipe, I found that the best milk to use an oat based one (it is generally my go-to). You could use one like Oatly Barista Edition Oat Milk or Minor Figures Oat Milk.
How To Make A Homemade Gingerbread Syrup
When I originally tried this recipe, I used ground spices instead of fresh ones. The taste was still there for sure, but I found the milk mixture with the ground spices to be very grainy, when we want it to be smooth!
Using Fresh / Whole Ingredients
When I tried with fresh/whole ingredients, however, I found that the drink still had all the amazing flavors (even better than ground), but it also had that smooth finish that we expect from coffee made by baristas! I would really recommend going the extra mile with this recipe in particular and opting for the whole ingredients.
Using Ground Spices
If you choose to ground spices, the best option is to use a muslin bag to strain them, rather than adding them straight in.
To use ground spices in the recipe:
Use 1 ½ tbsp ground ginger
When substituting cinnamon sticks for ground spices, use ½ teaspoon ground cinnamon
½ teaspoon of ground Allspice
How Long Can You Keep Gingerbread Syrup?
Once you have made your gingerbread syrup for this latte, you can store it in a bottle and keep it in the fridge for up to 2 weeks.
This is a great way to do it if you want the latte in the morning but won't have time to make it – simply make a larger batch and store it for your morning coffee!
Gingerbread Syrup Recipe
This recipe will make about 16 tablespoons worth which is enough for 8 to 16 coffees depending on how sweet you like your coffee.
Ingredients for the Gingerbread Syrup:
240 ml (1 cup) water
200 g (1 cup) caster or granulated sugar
2 tbsp dark brown sugar
2 tbsp treacle (molasses)
2 cinnamon sticks
50g (2 tbsp) freshly grated ginger
4 peppercorns or allspice berries
4 whole cloves
1 tsp Vanilla Extract
Method:
Add the sugars, molasses and water into a pan. Add the cinnamon stick, ginger, peppercorns/berries and cloves to the mix and bring gently to the boil. Let the mixture simmer for 5 minutes until the sugar has dissolved.
Allow the mixture to cool for 20 minutes, this will allow the flavors to infuse.
Strain the mixture into a jug or bottle.
Vegan Gingerbread Latte Recipe
Ingredients
1 shot (1 oz or 30 ml) of espresso
6.76 oz (200 ml) of the milk of your choice
2 tbsp (1 oz or 30 ml) of gingerbread syrup – you can adjust depending on how much flavor you wish for but found this to be the best balance
Optional: top with vanilla whipped cream
Instructions
Heat up the milk on the stove, add 2 tbsp (1 oz or 30 ml) gingerbread syrup to the milk and whisk.
Pour your espresso into your favorite mug or cup and add your milk/syrup mixture
Whip cream, add vanilla and cinnamon for extra flavor.
Pipe on top of the coffee
Enjoy with gingerbread cookie!
Nutrition Information:
Yield:

1
Serving Size:

1
Amount Per Serving:
Calories:

382
Total Fat:

6g
Saturated Fat:

4g
Trans Fat:

0g
Unsaturated Fat:

2g
Cholesterol:

23mg
Sodium:

189mg
Carbohydrates:

74g
Fiber:

0g
Sugar:

38g
Protein:

8g
I am not a doctor or a dietician. The information I have presented and written within this site is intended for informational purposes only.
More Coffee Articles