Irish coffee is a really great simple coffee drink to warm you up in the winter! It's so easy to make, so even if you have no experience you'll be able to whip one up no problem at all! The simple ingredients, coffee, whiskey, and cream, are a match made in heaven.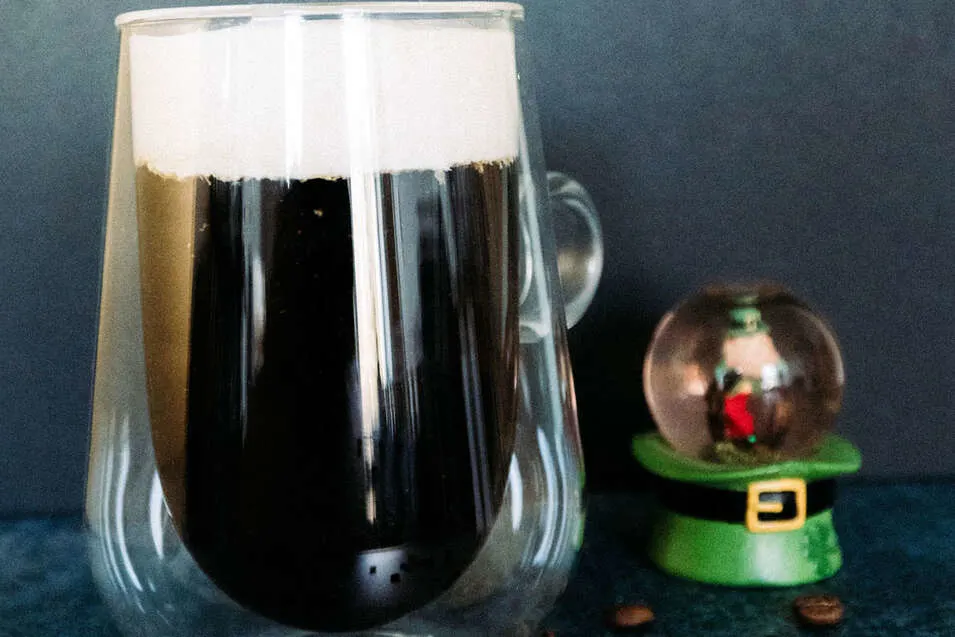 These three elements are great on their own, but when served together in this traditional Irish drink, it takes them to another level entirely.
A common misconception about the drink is that it is simply any coffee drink with a shot of alcohol added to it. While I am sure that would still be delicious, the traditional Irish coffee drink is much more thought-out than this; it is a carefully constructed drink made with specific ingredients.
Disclaimer: Hi! this post may contain affiliate links which will take you to online retailers that sell products and services. If you click on one and buy something, I may earn a commission, see my Affiliate Disclosure for more details.
The one we are making today is going to be a black coffee mixed with Irish whiskey and brown sugar, which are the ingredients of a traditional Irish coffee. I am then going to be putting my own spin on this old favorite by topping it with Baileys Cream.
The History of Irish Coffee
Irish coffee was first invented by an Irish chef named Joe Sheridan in the winter of 1943. Sheridan worked at Foynes Port, an airbase normally used for longer flights to stop over and refuel. One winter night, a flight coming from the United States had to turn back midway through the journey and would therefore be very delayed.
Sheridan felt for the passengers, so decided to put something warm together for them to drink when they finally arrived. He wanted it to be an Irish drink that he could show them, but he also knew that Americans drank a lot of coffee. He had the idea to add Irish whiskey to coffee, and the Irish coffee was born!
The beverage became an airport specialty, tried and enjoyed by hundreds of people including Marilyn Monroe, who can be seen in photographs enjoying her Irish coffee served by Sheridan himself. It then became a worldwide hit after the war, when it reached America.
It was discovered by an American travel writer who then passed it on to a bartender to try and make. The bartender who first attempted it in the US struggled to keep the cream sitting on the top of the drink, so he decided to travel to Ireland to learn how to make it from Sheridan himself. The drink became loved all over the world after that.
What's In Irish Coffee?
The Traditional version of the drink is made up of black coffee with Irish whiskey in it, and cream sitting on top of the drink. I will be replicating the traditional recipe here, but I will be adding a twist to the cream by adding the Bailey's.
In this recipe, I will be making it a vegan Irish coffee, so I will be using Bailey's Almande for the cream.
As it is an Irish Coffee I will be using the standard Irish shot size which is 35ml. However, you can feel free to adjust this to 25mls if you prefer for it to not be as strong.
How To Make Pour-Over Coffee
For this recipe, I will be using pour-over coffee for the coffee base of the drink. Pour-over brings out a lot of the intricacies of flavor in the coffee that many other methods do not. The filter method also allows for many of the oils to be extracted leading to a very clean cup.
My go-to ratio for the perfect pour-over coffee is 2.11 oz (60 g) of coffee to 33.8 (1 L) of water. For 1 mug of coffee, this would be o.53 oz (15 g) to 8.45 oz (250 ml) of water.
The grind needs to be filter level, and then you can begin pouring the coffee into the filter.
What Is The Best Irish Whiskey For Irish Coffee?
For this one, I have chosen Teeling Irish Whiskey because it gives you a super smooth finish, but there are lots of great whiskies that you can use which all give different finishes, such as:
Jameson – for a classic Irish coffee
Bushmills – for a spicier finish
Knappogue – this will give a really rich tone
Green Spot – for a fruitier taste
Can You Get Drunk On Irish Coffee?
Irish coffee has a comparatively small amount of alcohol compared to the ratio of coffee, so it is unlikely to make you drunk, especially after only one.
However, there is still alcohol present in the drink, which must be considered in the same way any other alcoholic beverage would be when thinking about driving after drinking it.
Does Irish Coffee Keep You Awake?
Irish coffee has more coffee than a whiskey in it, so it is likely that it will still keep you awake if you are sensitive to caffeine consumption. However, seeing as there is also alcohol, you may find that it negates some of the buzz that you would normally get from drinking coffee, making it a bit of a safer one to have at night!
Which Vegan Cream To Use?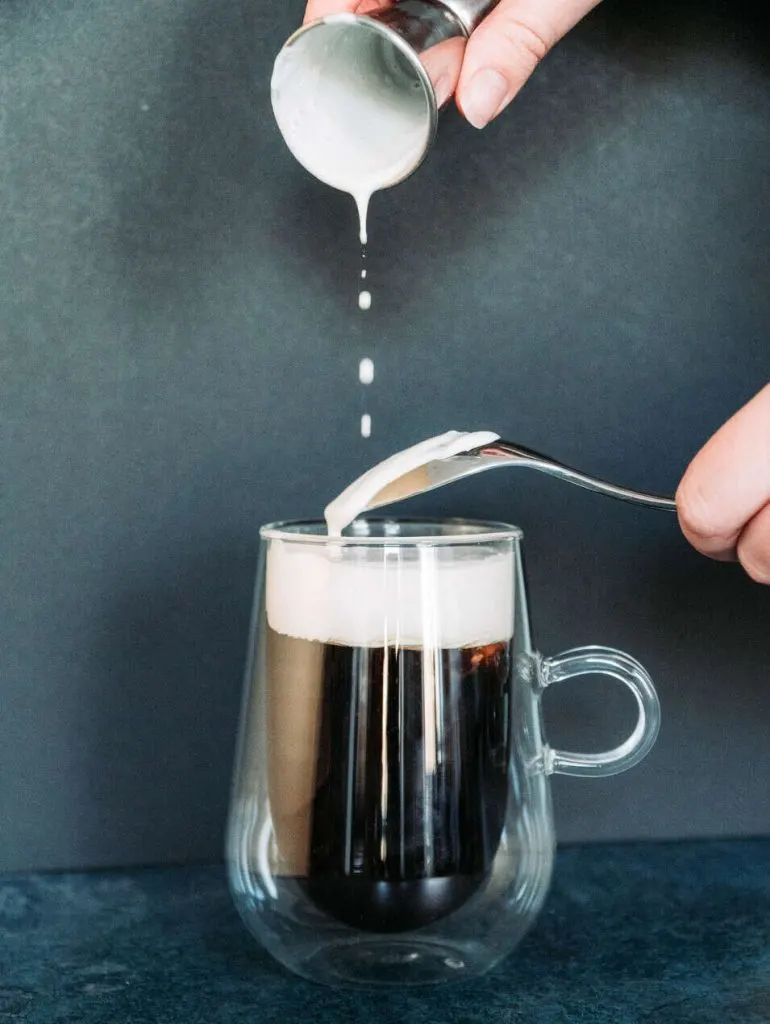 For this recipe, I used Schlagfix vegan whipping, baking, and cooking cream which is super easy to use. However, you can use any vegan whipping cream that you like. Alternatively, you can also make your own whipping cream!
The cream used for this drink should be super thick in order to create that solid consistency that will sit on top of the coffee base. Single cream will not have the right consistency to 'whip' as it does not have the right fat content. Make sure the cream is cold when you begin whipping it as well to prevent it from going runny. Whip the cream lightly so that it is not overly stiff – it needs to still be drinkable!
Irish Coffee Variations
Add a garnish
You can add a garnish of your choosing to this drink if you want to change it up slightly. I recommend adding a sprinkle of ground cinnamon or nutmeg, or some chocolate shavings to the cream on top!
Choose decaf coffee
If you want to reserve this for an after-dinner drink but don't want to risk being kept up with the coffee, then simply switch up your caffeinated espresso shot for a decaf one instead!
Serve over ice
Try using cold brew coffee instead of hot pour-over coffee, and serve it over ice instead of hot! This is perfect if you're an iced coffee addict.
Make it extra creamy and rich
For a super creamy finish, go for half and half Bailey's and Irish whiskey. This variation is so nice and luxurious!
Feeling a bit festive?
Why not add pumpkin spice or gingerbread syrup – simply replace the sugar element with the syrup and there you have it – a festive variation of the drink!
Vegan Irish Coffee with Bailey's Cream
A simple, warming whisky & coffee based drink. Perfect for cold winter nights or as an after-dinner drink. This is a vegan variation of the typical Irish coffee, and with my own twist as I add Bailey's to the cream topping.
Ingredients
Irish Coffee
8.45 oz (250 ml) of brewed coffee
1.8 oz (35 ml) Irish whiskey
1 tsp (0.16 oz or 5 ml) light brown sugar or to taste
Bailey's Almande Cream
1.7 oz (50 ml) Vegan Cream
4.2 oz (12.5 ml) Bailey's Almande
Instructions
Ideally, use a 12 oz (330 ml) glass for this recipe so that all of the ingredients can fit into it!

Warm your mug or glass by letting hot water sit in it for a couple of minutes before pouring it out. This prevents it from cracking from the heat and will also make the drink stay warm for longer. Irish coffee is traditionally served in a glass mug, but any regular glass or mug will do fine too!
Make your V60 or Chemex coffee, for this I used 0.53 oz (15 g) to 8.45 oz (250 ml) of water.
Add your whisky into your glass of choice
Add a 1 tablespoon (0.50 oz or 15 ml) of sugar to sweeten (or skip if you like don't want additional sweetness)
Add a splash of coffee and stir the mixture to blend together, then full the cup with coffee. Leave around half an inch of space at the top to leave room for the cream
Whisk the cream so that it's slightly thickened, you don't want whipped cream more a double cream consistency.
Grab a spoon to pour your vegan Bailey's cream and slowly pour on the back of the spoon. This will help stop the cream and coffee from mixing together, giving a lovely separation between both.

Nutrition Information:
Yield:

1
Serving Size:

1
Amount Per Serving:
Calories:

330
Total Fat:

18g
Saturated Fat:

12g
Trans Fat:

1g
Unsaturated Fat:

5g
Cholesterol:

57mg
Sodium:

21mg
Carbohydrates:

10g
Fiber:

0g
Sugar:

10g
Protein:

2g
More Coffee Articles