There is nothing better than coffee right? Wrong. There is nothing better than alcohol in coffee.
This is a sentiment shared by many coffee and cocktail drinkers alike around the world, with dozens of alcohol manufacturers actively marketing their products towards coffee drinkers.
And with good reason! When done right, alcohol paired with coffee adds a deliciously decadent twist to our favourite roast.
Disclaimer: Hi! this post may contain affiliate links which will take you to online retailers that sell products and services. If you click on one and buy something, I may earn a commission, see my Affiliate Disclosure for more details.
Whiskey based drinks are best to add to the hot coffee to create smooth, smokey and often creamy alcoholic coffees. With an iced coffee instead pair with vodka or a rum-based liqueur for a more sophisticated twist.
Here are 16 different alcoholic drinks that pair exceptionally well with coffee, including a flavour breakdown…
1. Amaretto
Amaretto adds a wonderfully nutty flavour to coffee, with a small sharp kick to follow. It goes best in warm coffee and is delicious when topped with cream.
This sweet yet bitter Italian liqueur is a favourite of many coffee cocktail drinkers as it compliments coffee well, without distracting from the flavour of the brew itself. It has an almondy finish, with a barely-there hint of apricot and peach.
Popular and widely available brands of amaretto include: Diasronno, Di Antonio and Soiree.
Top tips for using Amaretto:
Amaretto pairs best with smooth coffee as the flavour can be considered subtle, so leave your dark roasts on the shelf.
It can also be paired with cold brew coffee, to provide a sweet note to more bitter cocktails.
2. Baileys Irish Cream
Baileys Irish Cream is a classic alcoholic addition for coffee, to create a deliciously creamy treat.
Adding Baileys to your coffee is an easy way to make an irish coffee without having to add the whiskey, cream and sugar yourself. Simply add a shot (or two!) of Baileys Irish Cream to your hot coffee for an easy warming cocktail.
Typically consumed after meals as a liquid dessert, the Irish coffee is a favourite drink around the world. It is particularly popular in the UK during the festive season, with Baileys often selling out on store shelves. It's so popular in fact many pubs, bars and restaurants will offer a Baileys coffee on their menus during the Christmas period here in the UK.
Baileys Irish Cream is a versatile alcoholic drink that pairs well in lattes, iced coffee and simply as a dash of sweetness in your standard brew.
It drinks well with filter coffee, instant coffee and cold brew – talk about versatile!
Baileys also offer a range of flavoured Irish Cream drinks, such as orange truffle and salted caramel, to spice up your coffees even further – yum.
3. Vegan Baileys Irish Cream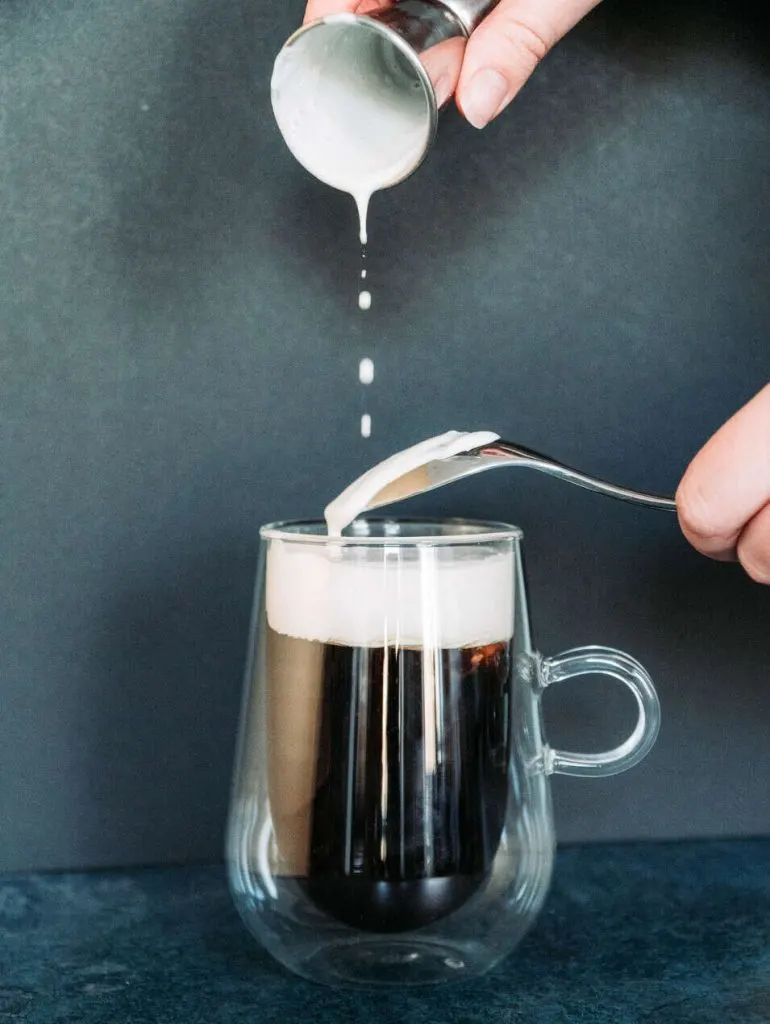 What if you are a fan of Irish coffee, but you've decided to drop dairy or go vegan altogether? Never fear! Baileys have recently developed a dairy free range that is suitable for vegan consumers.
The Baileys Almande Irish Cream drink is a fantastic alternative to dairy and pairs beautifully with coffee. 100% dairy free and vegan friendly this deliciously creamy nutty drink is scrumptious in both warm and iced coffee for a sweet yet spirited treat.
It is worth noting that it's alcohol content is lower than the classic Baileys Irish Cream, coming in at %13 instead of %17, making it a good choice for those who enjoy a slightly weaker alcoholic coffee.
4. Vodka
Vodka and vodka based liqueurs are an excellent choice of alcohol that goes well with coffee.
Often referred to as a 'Russian coffee', pairing vodka with your brew creates a more sophisticated coffee cocktail than the cream variants. Create an easy Black Russian cocktail with cold brew coffee, vodka and a sweet coffee liquor, to be enjoyed on the rocks.
Vodka based coffee liqueurs are an excellent pairing with coffee if you would like something a little less strong than the neat spirit. Available in as many flavour variants you can imagine, these liqueurs provide the perfect kick to both warm and cold beverages.
Try this caramel espresso martini! This is a slightly different version of the classic espresso martini as I have added a homemade salted caramel sauce to combine with the espresso. This gives the drink an extra sweetness, which is balanced with the saltiness and the bitterness of the coffee. This drink is a perfect cocktail to make for friends, and also works great as a coffee course for after dinner!
5. Kahlúa
Kahlúa is a Mexican rum based coffee liqueur made popular by the iconic espresso martini. At a 20% alcohol volume this delicious drink is a great choice as a cocktail component and as a stand-alone dash in your coffee.
A favourite for mixologists, Kahlúa is an essential ingredient in the following famous coffee-based drinks:
White Russian
Black Russian
Espresso Martini
Cold-brew martini
Pumpkin spice martini
Dalgona coffee
Kahlúa, founded in 1936, grow their coffee 'cherries' in the shade, and wait six years to produce the perfect coffee beans for the liqueur. Then they make the rum component of the drink from sugarcane, before distilling the alcohol to perfection.
The end result? The number one selling coffee liqueur in the world, that tastes of coffee bean, roasted chestnut and sweet butter.
They also offer a salted caramel and chilli chocolate variation of their product, for those with an even sweeter tooth.
6. Schnapps
Schnapps is a strong and clear spirit that when distilled results in a sweetened, fruit flavoured liqueur. When added to coffee it gives off a light flavour similar to vodka.
The wonderful thing about schnapps is the range of flavours. This popular drink comes in just about every flavour you can imagine, with butterscotch and cherry being a particular favorite for coffee based cocktails.
Add a shot to your favourite roast for a strong, tasty drink often used to settle the stomach and aid digestion.
Plum, chocolate and orange schnapps also go well in coffee, and make for an excellent twist in festive lattes.
7. Hazelnut liqueur
Pouring a shot of hazelnut liqueur into your coffee adds an easy alcoholic nutty twist to your drink, when you're in the mood for a quick cocktail.
Hazelnut pairs well with coffee in many forms – cream, milk and liqueur, as the flavor palettes complement each other excellently. Add a dash of hazelnut liqueur to your coffee and finish with hazelnut milk for a simple vegan coffee cocktail.
This flavor of liqueur is perfect for both hot and iced coffee, and will become a cupboard staple in no time. It also goes great in hot chocolates and mochas for a flavour similar to nutella.
8. Bourbon
Create a Kentucky Coffee cocktail by adding bourbon to your favourite roast. This popular American drink is so delicious and warming there's no wonder why it's a wintertime favourite.
Add a dash of bourbon to your coffee and top with whipped cream to create this classic coffee drink.
If you want to sweeten it up a little add a flavoured liqueur, such as caramel, toffee or honey to create the perfect cosy treat.
Often referred to in America as a 'spiked coffee' this strong yet scrumptious drink is made even better with a dark roast. Curl up with a mug under a quilted blanket and turn up the country music for the perfect American ambiance. Choose a bourbon with vanilla notes for an even sweeter finish.
9. Rum
Rum makes a fantastic pairing for coffee, as the burnt, sweet yet woody flavour is a match made in heaven for the smooth, smoky taste of coffee.
Add a splash of rum to a dark roast for a flavourful kick.
If you're craving something a little more fancy treat yourself to a Jamaican coffee by adding your favourite rum and coffee liqueur to your coffee, hot or cold. Top with whipped cream for a decadent finish and serve in a tall coffee glass.
If the drink is a little too strong for you adjust the measurements slightly and add more coffee/cream.
Alternatively if you don't have the coffee liqueur to hand you can make a more traditional version with warm coffee, spiced rum and an easy homemade syrup. If you have nutmeg in the cupboard add a pinch along with a little salt to finish the drink.
10. Ginger bitters
Perk up your coffee with a dash of ginger bitters. Perfect for an autumn or winter treat, ginger bitters adds the perfect flavor of spice to your coffee, and also pairs well in coffee-based cocktails.
Infused with ginger root, bitters have a high alcohol volume, so be careful not to overdo it. As your coffee is naturally of a bitter flavour, it can be easy to add a little too much ginger bitters, as it blends so seamlessly into the brew.
Ginger bitters taste fantastic with cold coffee, and serve best poured over ice.
11. Chocolate liqueur
Adding a decadent chocolate liqueur to coffee might be one of the easiest ways to take your cup from average to amazing.
The flavour of chocolate is so complimentary to coffee that the iconic mocha was created, inspired by the chocolatey flavours of Yemeni beans. Now a staple feature on the board of any coffee shop, the mocha is so popular because it's the perfect midpoint between a sweet hot chocolate and a bitter coffee.
Spice up your mochas by adding a dash of chocolate liquor to your coffee and hot chocolate combinations, and top with whipped cream and marshmallows for a truly heavenly drink.
Add a festive spin on this pairing with a peppermint or orange liqueur, to blend deliciously with the chocolate.
An exquisite brand of chocolate liqueurs is produced by Godiva, famous for their delicious chocolate. They have a range that offers white, milk and dark chocolate liqueurs, to suit all flavour palettes – wow!
12. Grand Marnier Cordon Rouge
This French cognac based liqueur has a distinctly bitter orange flavour, that adds a zesty kick to coffee.
Whilst it tastes great with coffee on it's own, it also goes well in coffee-based liqueurs and festive lattes.
Despite it's bitter taste the Cordon Rouge has a sweet finish, due to the sugar blended with the orange essence during the manufacturing process. Founded in 1827 this fine liqueur has been popular even since. Not only will it add a sophisticated spin to your coffee, but it's heritage makes for a great story to impress your pals when served after the meal at a dinner party.
History fact: created in a tiny distillery in Neauphle-le-Château, a small city outside of Paris, Grand Marnier was born when the cognac was mixed with a rare bitter orange from the Caribbean. It became a renowned liqueur due to the innovative flavour combination.
13. Brandy
Brandy is another ideal alcoholic pairing for coffee, that compliments the flavor palette well. Brandy has a distinctly fruity aftertaste and often a citrusy zest that mixes nicely with the smoky bitterness of coffee. Some brandys have a slightly floral taste, which create an aromatic effect when mixed with warm coffee.
Often referred to as a 'French coffee' or a Cafe Royale, adding brandy and cream to your roast of choice makes for a flavourful pairing.
To make a truly traditional version of this drink, stick to French coffee and French grape brandy. Heap in the cream and sugar and serve in a liqueur glass as a digestion aid after a meal (or as I like to call it – dessert!).
14. Velvetised Espresso Martini Liqueur
Hotel Chocolat offers a velvetised espresso martini liqueur that is to die for.
Adding this liqueur to espresso poured over ice and shaken is a lightning fast way to create this iconic cocktail, without all of the fuss. And to top it off it's simply delicious.
This liqueur produces a creamier version of the traditional espresso martini when mixed with espresso, with a sweeter finish. The liqueur is mixed with vodka, espresso, cream and white chocolate, to create a smooth and decadent flavour. It's like drinking velvet – hence the name! It's mellow yet punchy, creating the perfect cocktail base.
It also pairs well with warm coffee and is delicious on it's own over ice in a tall glass.
Fun fact: Hotel Chocolat actually run two bars serving this delicious stuff, proving just how expertly they blend together their liqueurs. One is based in their London restaurant and the other in their Saint Lucian cocoa farm!
15. Jack Daniels Whiskey
This super popular whiskey is widely available and favoured by many. It pairs beautifully with coffee, sugar and cream to create a traditional Irish coffee.
But we already know that whiskey is a wonderful accompaniment to coffee right? So, let's take it one step further.
Jack daniels and coffee are a fantastic base for whiskey cocktails, and also combine well with flavoured liqueurs to create festive lattes.
Here's how to create the perfect christmas cocktail using the two:
Pour hot coffee into a tall glass and add sugar to taste.
Add one shot of Jack Daniels and stir in two shots of cream
Finish with a dash of peppermint liqueur and top with squirty cream
A great choice for Christmas morning that's sure to please everyone!
For an autumnal version of this cocktail follow the recipe above and switch out the peppermint liqueur for honey liqueur or natural honey, for a rich finish. Adding the honey flavoured version of Jack Daniels would be an excellent choice too!
16. Vermouth and Gin
Both vermouth and gin pair well with coffee for a strong mix of botanical flavours. This bittersweet combination is distinct and not for the faint hearted.
Combining sweet vermouth and gin with espresso coffee creates the sophisticated Coffee Negroni cocktail, first made in Florence in 1919. A favoured drink during the roaring '20s this chic cocktail will wake you up like nothing else. Blend with Campari, then wipe an orange peel around the rim of the glass for a sweet squirt of essential oils and serve ice cold.
Garnish with whatever fruit you like, more orange peel or a cherry for a sweet twist.
Be warned, the alcohol content of this elegant cocktail is high, so be careful not to overdo it! The jittery kick of the espresso is tamed by the smooth gin, for a moreish finish. You'll definitely not want to stop at just the one.
In conclusion
I hope this boozy coffee guide has inspired you to head to your kitchen and try some of the delicious flavour combinations for yourself.
Whether you are researching coffee and alcohol combinations for a dinner party, or you're simply looking for a new treat there is something for everyone in this guide, covering all flavour palettes.
Here are a couple of finishing rules of thumb to follow if you're making coffee cocktails for guests:
If your guest has a sweet tooth, try making them an Irish coffee and add an extra sweet liqueur.
If your guest prefers a bitter taste try mixing them with a traditional Espresso Martini.
If your guest enjoys citrus and botanicals treat them to a Coffee Negroni.
If your guest is a bit of an alcohol and coffee connoisseur, try adding a splash of Grand Marnier Cordon Rouge to their after-dinner coffee and wow them with your historical facts.
If your guest is dairy-free but has a taste for cream, add a dash of Baileys Almande Irish Cream to their coffee.