If you're a coffee fanatic, then reading and learning about coffee is nearly as good as drinking it. Whether you're a beginner in the coffee world or wanting to start your own roastery, there's a book for every coffee lover. The only problem is choosing what to read – and what kind of coffee to drink while you're reading. What are the best coffee books out there?
The 10 best coffee books are:
A Coffee Lover's Guide to Coffee
The World Atlas of Coffee
Uncommon Grounds
Craft Coffee: A Manual
I Love Coffee!
Coffee Art
Brewing Justice
The Professional Barista's Handbook
The Daily Grind
The Various Flavours of Coffee
To save you time, we've pored (poured?) over the best coffee books on the market to bring you the finest selection of caffeine-driven books. This specially curated list presents 10 coffee books and 10 runners up for novice java drinkers, history buffs, home coffee brewers and mixologists, professional baristas, entrepreneurs, and anyone obsessed with the extraordinary art of the bean.
Disclaimer: Hi! this post may contain affiliate links which will take you to online retailers that sell products and services. If you click on one and buy something, I may earn a commission, see my Affiliate Disclosure for more details.
Coffee Books for Novices
A Coffee Lover's Guide to Coffee by Shlomo Stern
All the Must-Know Coffee Methods, Techniques, Equipment, Ingredients and Secrets
Coffee novices who feel they are entering unchartered waters faced by grinders, frothers, pour overs, and endless coffee beans can reach for what has been described as a Bible for coffee lovers. Written in an accessible, easy-to-read style, this comprehensive guide to the world of coffee is an enjoyable and informative read. The author – a New Orleans coffee shop owner – is passionate about coffee and shares his knowledge of making, drinking, buying, or selling coffee in a beginner-friendly way that will also appeal to the coffee enthusiast.
Coffee Gives Me Superpowers By Ryoko Iwata
An Illustrated Look at the Most Awesome Beverage on Earth
This fun, graphic-style book is based on Ryoko Iwata's website and is full of colorful infographics, FAQs, random facts, and other thoughts about your favorite beverage. Much of the material was published on the website www.en.ilovecoffee.jp. However, the Seattle-based coffee lover has included a heap of new articles as well. This book would make a fabulous gift for your most loved coffee lover who wants to know the difference between your brain on beer vs. your brain on coffee.
Introduction to the World of Coffee
The World Atlas of Coffee by James Hoffman
From Beans to Brewing – Coffees Explored, Explained, and Enjoyed
This comprehensive and gorgeously illustrated introduction to the world of coffee offers a broad overview of coffee in all its diversity. Covering the different kinds of coffee beans, growing, processing, and production techniques, as well as brewing methods, the best-selling The World Atlas of Coffee takes the reader on a coffee tour of the world – from Guatemala to Bolivia and Zambia – with maps to match. The author has been involved in the world of coffee for decades, is a World Champion barista, and owns a coffee roastery and distribution company. Don't be surprised if you start planning your next holiday around coffee-growing locations.
Coffee Obsession by Annette Moldvaer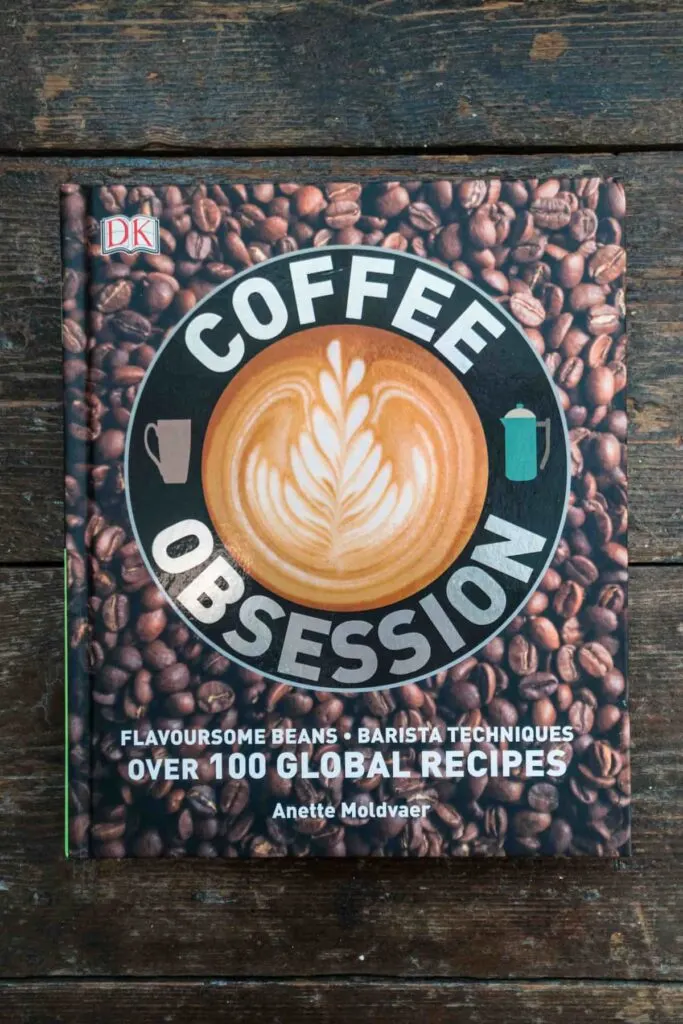 With a title that says it like it is, Coffee Obsession was written by Hoffman's business partner. Although vast in scope, dealing with the history of coffee, as well as the different types of beans and even brewing techniques, this is an accessible read with plenty of the appealing illustrations, diagrams, and maps typical of DK publications. Including recipes that take you step-by-step, Coffee Obsession is a great reference book about coffee but is also interesting to skim through and dip into. Keep one copy in your kitchen and another on your nightstand.
History of Coffee
Uncommon Grounds by Mark Pendergrast
The History of Coffee and How it Transformed our World
Covering the broad sweep of the history of coffee from its discovery in Ethiopia to the modern phenomenon that is Starbucks, Pendergrast's meticulous yet entertaining work also focuses on the past decade and the dramatic changes in coffee culture that have taken place. Covering the "coffee crisis" and plummeting global prices, the "third wave" of obsessive coffee snobs, and the rise of the Fair Trade movement, this scholarly book is an excellent social history of the world's most socially acceptable drug. An updated edition of Uncommon Grounds is now available.
Coffee: A Global History by Jonathan Morris
Explore coffee's journey from the forests of Ethiopia to London coffee houses, from the fincas of Latin America to the Costa round the corner. This concise book will explain how the world acquired a taste for coffee. Jonathan Morris explores who first drank coffee, how it tasted, how it was farmed and prepared, and how the coffee trade developed. He also analyses the massive coffee industry, looking at the four continents on which coffee is grown, the role of brokers, roasters, and machine manufacturers, and even the geopolitics linking coffee from producers and consumers.
At Home Coffee Makers
Craft Coffee by Jessica Easto
A Manual: Brewing a Better Cup at Home
This book is for those who love making and drinking coffee – no espresso allowed. Easto is a coffee enthusiast who aims to demystify the creation of excellent quality coffee – you don't need to be a barista. If you just want to learn how to make a simple yet perfect cup of joe in your kitchen, not read about the coffee industry, then this is the ideal book for you.
The Blue Bottle Craft of Coffee by James Freeman, Caitlin Freeman, and Tara Duggan
Growing, Roasting, and Drinking, with Recipes
For the home barista who wants to do more than just make coffee, this fascinating guide created by the Blue Bottle Coffee Company offers the help you need to navigate the ins and outs of craft coffee. Including tutorials on home roasting, cupping, and different styles of coffee, such as pour-over, French press, Turkish, espresso, and drip, this book has step-by-step instructions to raise your coffee game to the next level. A bonus is the section of recipes for palate-delighting bakes that go with a cup of coffee. If you're interested in artisanal coffee, treat yourself to this beautiful book which contains over 100 photographs.
Best Coffee Recipe Cooks
I Love Coffee! by Susan Zimmer
Over 100 Easy and Delicious Coffee Drinks
A recipe book for the coffee lover, I Love Coffee! is a simple guide to making the perfect cup of coffee at home – no matter the occasion. Offering easy and delicious techniques, Zimmer's book will teach you not only how to make cappuccinos and lattes but also scrumptious coffee desserts, alcoholic coffees, and iced coffee delights. There is also a section of seasonal coffee recipes, including a treat for the pumpkin spice brigade. Sprinkled throughout are handy tips and amusing anecdotes for the coffee-loving cook or the cooking coffee lover. This lovely book is also recommended for coffee shop and café owners.
The Art and Craft of Coffee Cocktails: by Jason Clark
Over 80 Recipes for Mixing Coffee and Liquor
With two decades of experience in the industry, Jason Clark presents a comprehensive guide to combining two of life's greatest pleasures, coffee and alcohol. The first part of the book covers the history and craft of coffee, from crop to cup. The second section focuses on expert mixing tips to help you create perfect coffee cocktails, whether you're a beginner or an experienced bartender. Learn how to make a classic Irish Coffee or try Death by Caffeine – coffee drinking will never be quite the same again.
Best Books About Coffee Art
Coffee Art by Dahn Tamang
Creative Coffee Designs for the Home Barista
Do you delight in rosettes on your coffee? Do you want to send a message to your loved one through latte? If you'd like to try your hand at creating coffee-top designs, then this is the book to study. The world's best latte artist, Dhan Tamang, offers basic skills and patterns to teach you how to etch, stencil, free pour, and even sculpt amazing images, starting from making a crema as your basic canvas. Whether you want to impress your friends and dinner party guests, or if you're already a seasoned barista, Coffee Art will make you an expert in coffee creations.
Latte Arte by Peter Hernou
Written by award-winning Belgian barista Peter Hernou, the eye-catching book Latte Arte is a work of art in itself. Filled with gorgeous images of coffee, this book is a visual delight as much as a book about coffee. Arguing that you need to start with the best ingredients to make beautiful coffee, the author explores the creative side of coffee, art in a cup. An art book rather than a guide to creating coffee-top designs, this is one for the coffee table, not the kitchen table.
Best Books About the Ethics of Coffee
Brewing Justice by Daniel Jaffee
Fair Trade Coffee, Sustainability, and Survival
Have you ever wondered what that "Fair Trade" sticker means? Or whether buying Fair Trade coffee makes a difference? This beautifully written and meticulously researched book investigates the reality of coffee farming through a study of farmers in Mexico. The author is a sociologist who explores the social, economic, and environmental impact that Fair Trade markets can have: Fair Trade brings better prices and social justice to coffee farmers who receive a fraction of the profits from the global coffee industry. Brewing Justice will draw you in and make you consider how your morning cappuccino got from the farm to your cup.
The Birth of Coffee by Daniel Lorenzetti and Linda Rice Lorenzetti
The Birth of Coffee is the book component of a project comprising a photographic exhibition and a website as well, highlighting the profound impact of the coffee industry on manual laborers in coffee-growing nations. An exquisite collection of photographs (stained with coffee) documents their travels and face-to-face meetings with ordinary people in eight coffee-producing countries where brown gold is more than a product, but a way of life that has not changed – for the better – for decades. Prepare to be touched on a deep level when you next order an espresso.
Professional Baristas
The Professional Barista's Handbook by Scott Rao
An Expert Guide to Preparing Espresso, Coffee, and Tea
Written by well-known barista Scott Rao, this serious handbook focuses on the coffee maker's methods, techniques, and jargon. Scott Rao's book is aimed at those working in coffee shops and cafes. It covers practical and relevant issues such as cupping, roasting, and flavor development rather than musings on the coffee industry. Not a book for beginners, this is study material for the aspiring or seasoned professional.
The Craft and Science of Coffee by Britta Folmer
Reading almost like a textbook or academic paper, The Craft and Science of Coffee explores the coffee industry from the multiple points of view of academics, the scientific community, farmers, producers, baristas, and other craft experts. The editor, Dr. Britta Folmer, Coffee Science Manager at Nestlé Nespresso, has combined research and dialogue on the real-world experience of coffee production and its economic impact to produce a rigorous, complex engagement with the discerning reader.
Coffee Entrepreneurs
The Daily Grind by Andrew J. Bowen and Claire E. Bown
How to Open and Run a Coffee Shop that Makes Money
Filled with no-nonsense advice from experienced and successful coffee industry entrepreneurs, this is the perfect book for someone looking to open and run a coffee shop. The Daily Grind covers the best locations, layout, and menus for coffee shops, how to build a strong team, how to provide outstanding service to your customers, and also financial and management tips. Written in the British context, The Daily Grind has several lessons for coffee shop entrepreneurs in any market.
Onward: How Starbucks Fought for Its Life without Losing its Soul by Howard Schulz
Need inspiration from one of the most successful coffee chains ever? President of Starbucks, Howard Schulz, tells the story of how he reinvented Starbucks and engineered its massive comeback during the recession of 2008. As much a story about the coffee industry and the accompanying cultural, financial, and global responsibility, this book is about success in business without sacrificing sustainability and humanity.
Books to Read With a Cup of Coffee
The Various Flavours of Coffee by Anthony Capella
For those who enjoy a bit of fiction with their coffee, Capella's novel tells the story of Robert Wallis, who is commissioned by coffee merchant Samuel Pinker to categorize the different tastes of coffee. Set in 1895, Wallis's adventures span Oxford, London, and the coffee plantations of Africa and touch on topics of romance' women's rights, slavery, and colonialism. Enjoy this richly evocative yarn with your favorite cappuccino – or rather, make a whole pot of coffee as you devour the book in one sitting.
The Devil's Cup: A History of the World According to Coffee by Stewart Lee Allen
In this quirky exploration of the role of coffee in the world, Allen considers whether coffee is the driving force in the history of western civilization. Follow Stewart Lee Allen as he travels around the globe searching for historic cups of coffee, iconic cafés in Calcutta, and villages in Yemen that shaped the evolution of coffee. Coffee is the hero of this epic saga, with Allen reminding us that "those who deny the power of coffee (namely tea-drinkers) do so at their own peril".
Combining the joys of drinking coffee and reading about coffee is the height of pleasure for a coffee addict. Whether you want to improve your skills as a barista or philosophize about the role of coffee in western culture, there is a coffee book to suit your every mood.