With some vegan cream, whiskey, vanilla, almond milk and coffee you will have a ridiculously delicious homemade Almande Baileys in minutes.
I love baileys but it's not something I keep in my house often. I do however keep the ingredients to be able to make it so this is a great alternative to buying a full bottle of Almande Baileys.
This is the perfect thing to make when friends are around or you're craving something sweet! With this copycat recipe, you can create it any time you have a craving for it!
Disclaimer: Hi! this post may contain affiliate links which will take you to online retailers that sell products and services. If you click on one and buy something, I may earn a commission, see my Affiliate Disclosure for more details.
Ingredients of Baileys Almande
In 2017 Baileys launched their vegan version of the drink called Baileys Almande. The other versions of Baileys are not vegan and contain milk.
Baileys say Almande is made from sweet almond oil and almond essence (extracted from crushed almonds), cane sugar and purified water with a touch of real vanilla. Baileys Almande is deliciously light tasting and best enjoyed over ice or in a chilled cocktail.

Baileys
Now for this recipe I am not planning on extracting oil from crushed almonds, thankfully these days we have almond milk readily available in the supermarkets.
What You Need For the Recipe
For this Almande Baileys recipe, you will just need a few ingredients.
Almond Milk
Almond milk with being the base of the drink so making sure you have good quality milk is important. If you are trying to go nut-free or don't have almond milk to hand then use any of your favourite plant-based milk. It won't have the almond flavour but it will still taste good! I've tried this with oat milk and tasted just as great!
What is the Best Whiskey for Almande Baileys?
Next choosing the whiskey! As this is an Irish based drink I have opted for an Irish whiskey brand for this drink.
For this one, I have chosen Bushmills Irish Whiskey as it was in my alcohol collection but there are lots of great whiskies that you can use which all give different finishes, such as:
Jameson – for a classic Irish coffee
Bushmills – for a spicier finish
Knappogue – this will give a really rich tone
Green Spot – for a fruitier taste
Do be careful on the whiskey you choose, adding a peaty Scottish whisky like Lagavulin will not create the best taste as come up very smoking. Irish whiskey tends to have oakiness and caramel which is the perfect combo for this.
And no there is not a spelling mistake in my whiskey/whisky. Irish add an 'e' whereas the Scottish have it without an 'e'.
Plant-based Cream
I used Elmlea Plant Double Cream which is available in the cold section of my supermarket. Alternatively, you can use any vegan whipping cream that you like but my other go to's are Schlagfix or Oatly vegan whipping cream which are super easy to use.
Maple Syrup
I recommend organic grade A maple syrup. I bought a giant bottle from Amazon as it's not so available in the UK but you can easily find some in Costco or other stores. Don't have maple syrup? Simply swap maple syrup with sugar syrup or mix a little bit of sugar in hot water.
Vanilla Paste
Vanilla paste is my go-to for adding awesome vanilla taste to my recipes. Taylor and Colledge Organic Vanilla Bean Paste is the one I used in this recipe. You can replace this with vanilla essence or vanilla coffee syrup. If you do your vanilla coffee syrup I suggest skipping adding maple syrup as this will double the sugar.
Espresso
A good shot of espresso is needed for this recipe. Swap the espresso for decaf you don't want caffeine towards the end of the night.
Ice
The classic is to have Baileys on ice so this is what I have done but you can skip this out. Alternatively, if you want more coffee flavours consider adding coffee ice cubes!
Tools For the Recipe
Equipment you will need to make the Baileys with:
Spoon.
Measuring Spoons.
Measuring Cups.
Espresso Machine – Moka Pot, Aeropress, Nespresso Machine or anything you can make espresso with.
12oz or 330ml Glass.
How To Make Vegan Baileys At Home?
The process of making the drink is pretty easy and won't take you more than a couple of minutes to put it together.
Step 1 – Make a Good Espresso
There are a few different ways in which you can make your espresso, which will be the coffee base with this drink: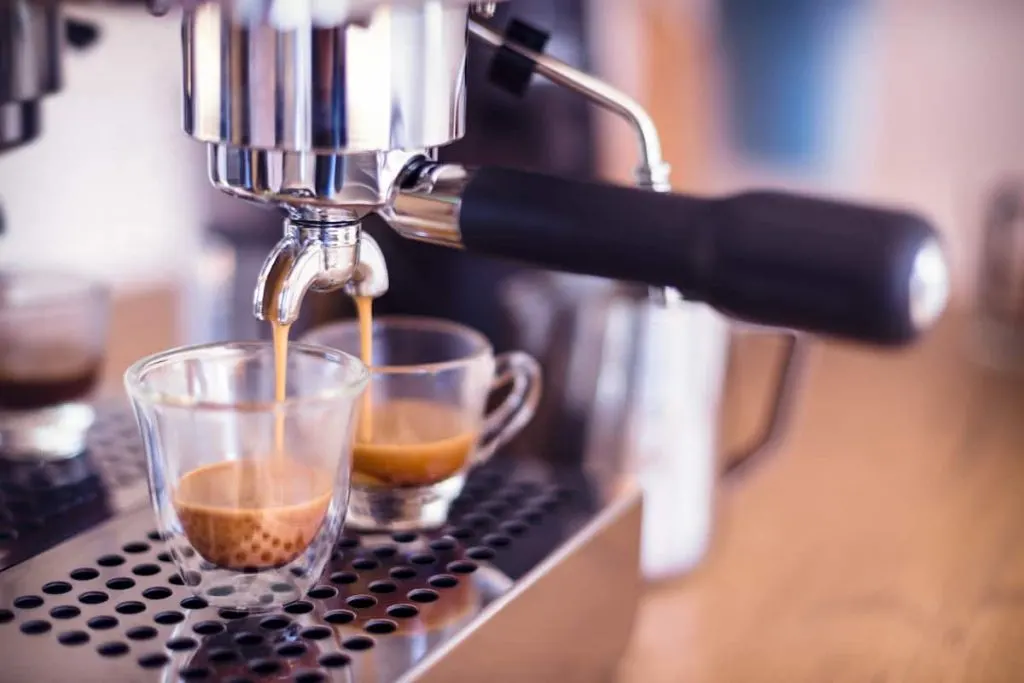 Espresso Machine
This is always the best way to make coffee! Create a shot of espresso with your machine.
Not all of us have the space to have a great espresso machine so I used my Pixie Coffee Nespresso Machine and local coffee roasters Nespresso pod to make this.
Moka Pot
Moka pots are great alternatives for making espresso! These adorable little kettles sit prettily in the kitchen and make an espresso-like brew with a super-smooth pour!
Measure our around 2 tablespoons (14g) of coffee
I always preheat the water in a kettle making a moka pot coffee as it will be a quicker process.
Pour 3 ½ ounces of water into the bottom of the pot and pour your coffee grounds into the filter. Gently shake to settle the grounds and screw on the top of the pot. Set on the stove at medium heat.
When the top of the pot is filled with coffee, pour out and enjoy!
AeroPress
The AeroPress is also a great candidate for making espresso that matches the strength and flavor of espresso from a machine!
Place your filter into the drain cap (using more than one works really well for espresso). Place both inside the press and place the press onto a mug
Use around 2 tablespoons (14g) of coffee, drop the grounds into the filter
Add around 3 ½ ounces of liquid (heated to 200 F (93 C)) and stir it with the coffee before pressing the plunger down hard.
French Press
The french press is not the best option for making espresso, but it can still make a highly concentrated shot, and seeing as it's the most common household coffee item it may be the most realistic option for many people!
Use at least 2 tablespoons (14g) of coffee – more may be best as it won't come out as concentrated as with the other methods.
Heat 1 cup of water to (heated to 200 F (93 C)) and add the grounds to the french press
Add a splash of hot water to the grounds to bloom the flavor. Wait approx. 30 seconds.
Pour the rest of the water over the grounds, cover with the lid and leave for about 4 minutes
Press the plunger half way down, then raise it all the way and plunge all the way down using even pressure.
Step 2 – Mix Espresso with Maple Syrup and Vanilla Bean Paste
When I made this without this step I found I just had lots of maple syrup at the bottom that didn't combine so make sure you do this!
Mix the hot espresso with maple syrup and vanilla bean paste until combined. This will make sure that the sugar elements don't sit at the bottom of your drinks and they mix well the cold ingredients.
Step 3 – Combine in a Glass
In a 12oz or 330ml glass combine almond milk, whiskey, vegan cream and espresso mixture.
Stir all the ingredients until combined.
Add ice.
Vegan Baileys Variations
Looking for other alternative to mix you Baileys with, then I recommend:
Chocolate
Add a tablespoon of cocoa power and mix in well to create a chocolate baileys. This can replace the coffee if you don't wish to have caffine.
To have a hot version, simply heat the cocoa powder and almond milk on the stove. Once warm combine all the other ingredients and stir. I recommend using a barista version of almond milk to ensure that it doesn't split.
Milskshake
Add all the ingredience to a blender with a few scopes of icecream and you will have the perfect milkshake!
Cold Brew
Instead of using espresso you can replace a shot of this with cold brew concerntrate.
Almande Baileys
With some vegan cream, whiskey, vanilla, almond milk and coffee you will have a ridiculously delicious homemade Almande Baileys in minutes.
Ingredients
3/4 Cup (180ml) of Almond Milk
1/4 Cup (60ml) of Vegan Cream
1 Shot Espresso
Instructions
Make a shot of espresso.
Mix espresso with maple syrup, vanilla bean paste until combined. This will ensure that the sugars combine nicely with the cold ingredients.
In a 12oz or 330ml glass add almond milk, whiskey, vegan cream, and espresso mixture.
Stir all the ingredients until combined.
Add ice.
Enjoy your lovely Almande Baileys.
Nutrition Information:
Yield:

1
Serving Size:

1
Amount Per Serving:
Calories:

401
Total Fat:

24g
Saturated Fat:

14g
Trans Fat:

1g
Unsaturated Fat:

8g
Cholesterol:

68mg
Sodium:

33mg
Carbohydrates:

22g
Fiber:

0g
Sugar:

20g
Protein:

3g
I am not a doctor or a dietician. The information I have presented and written within this site is intended for informational purposes only.