Gifting coffee themed party favors is a great idea for a range of occasions. Whether you are throwing a summer garden party for your iced latte drinking pals, or you are picking our favors for your wedding day, coffee themed gifts are a huge hit with adult guests.
There are endless coffee themed party favors available for purchase online – you just need to know where to look! We have curated a list of coffee themed party favor ideas, including where to buy them, to save you time and help you come up with ideas for your event.
We've also listed a range of homemade ideas at the end of the article for those on a budget!
Disclaimer: Hi! this post may contain affiliate links which will take you to online retailers that sell products and services. If you click on one and buy something, I may earn a commission, see my Affiliate Disclosure for more details.
When to gift coffee party favors
Here are some quick ideas of which coffee favors to gift, and when:
Gift coffee-scented candles at rustic baby showers or bridal showers
Treat your guests to beautiful, ornate coffee spoons as wedding favors
Hand out personalised coffee travel mugs or cafetieres for a fancy graduation party
Here are 15 coffee themed party favors ideas including recommended products for your inspiration…
Coffee Spoons
These beautiful coffee spoon and cake fork sets are a gorgeous way to present a party favor to your guests. Let them leave dreaming of their next afternoon coffee and cake combo using these gilded beauties.
Made from high quality stainless steel, these make the perfect addition to your friends and family's cutlery drawers.
Coffee spoons are a must-have for coffee lovers as they add to the experience of enjoying your favourite roast. a pretty spoon can add a touch of delight to an otherwise ordinary coffee.
Coffee Beans
Send your guests home with fresh coffee beans, complete with a personalised message re your party! Ah the gift of delicious caffeine.
These 'Grounds for Celebration' coffee bean bags come in super cute rustic packaging and feature a little printed message you can choose at point of purchase.
A fantastically simple gift for your coffee loving pals – beans for their grinders! Or if they don't drink coffee, wonderfully fragranced beans also serve as a natural scent for the home and kitchen. Swap out your potpourri for a bowl of coffee beans to add rich smells to your rooms!
These also make great coffee themed wedding favors for a quintessential 'hipster' wedding.
Glass Coffee Mugs
A sweet printed coffee mug featuring a lovely message about your party or big day is a wonderful way to gift your guests.
These coffee cups come with a memorable message about your party, bridal shower or wedding day – it's up to you how you personalise them!
They make excellent bridal shower gifts if you have coffee loving friends, if you're stumped for ideas. They're also lovely party favors for a baby shower, complete with a message about the little one.
Give your friends and family a memory of your party that they can enjoy each time they pour themselves a cup of coffee.
Coffee Scoops
A little personalised coffee scoop is an adorable party favor for your guests. Set up a station with coffee beans and bags so the guests can fill the bags with beans yourself or leave them empty with a bag the coffee scoop clipped to the side.
This sweet gift is perfect for cafe aficionados and at-home-baristas alike, reminding them of you each time they scoop beans into their grinder at their coffee bar. They can also be used for scooping salt, spices, flour and candy – whatever your guests want to use them for!
Coffee Soap Favors
Coffee soap favors are a fun idea for a party gift, that your guests can take home to use in the shower the next morning. Enrich their bathing routines with the fresh scent of coffee soap, for a unique experience that will remind them of your party.
These beautiful soap favors on Etsy are available in a range of scents, including coffee and even cinnamon latte! Get your own personalised message printed on their cardboard sleeves for a rustic touch.
They are handmade soaps and 100% vegan and cruelty free, made with simple ingredients – it doesn't get much better than that!
Cardboard Coffee Sleeves
Cardboard coffee sleeves are a great idea for party favors that are recyclable and affordable, yet add a fun twist to your do. Serve coffee at your party with these cardboard sleeves, or pass them out to your friends to use on their coffee cups during their morning commutes.
Add a personalised fun message as a way to remind your guests of your party. They are insulated and have a brown ribbed exterior for good grip. These sleeves are a fun idea for coffee themed parties – set up your own mini cafe and excite your guests with branded cardboard sleeves!
White Ceramic Coffee Mugs
White ceramic coffee mugs are a lovely gift for guests that feel robust and have a classic design. Personalised ceramic coffee cups are great coffee themed gifts for wedding favors, graduation party favors, bridal party favors or even baby shower favors!
Feature your own custom design with personalised lettering and a message on these mugs from Etsy. The mugs are 10oz ceramic mugs hand painted in Cambridge and are dishwasher and microwave safe.
The pretty floral design with a gold box is the perfect space for your message – these would make lovely 'save the date' gifts or wedding favors set by the place markers at the tables.
Coffee Cup Coasters
An excellent party favor for coffee fans is a personalized coffee cup coaster. Add the date of your party, or a little personalised phase that sums up the day to this printed cork coaster.
We're always looking for a spare coaster when setting our coffee down at our desks or at home – like pens and socks they always seem to disappear! Give your friends and family these adorable party favor coasters so they can have a spare on hand, to remind them of your day each time they lift up their coffee to take a sip.
Coffee and Chocolate Box Party Favor
Give your party guest a sweet treat to remember – a coffee and chocolate gift box.
A combination of chocolate and Turkish coffee, these adorable gift boxes on Etsy are beautiful. Packages with dried flowers, rustic twine and a personalised message these gift boxes are the perfect favors for coffee and chocolate lovers alike.
Great for wedding favors but also baptism or birthday party favors too! You can even change the colour of the dried flowers to suit the theme of your event, for an even more personalized. The chocolates are packaged in a lovely glass jar with a cork and the coffee is next to them in a sealed packet – it's the perfect coffee party favor aesthetic!
Funky Personalised Coffee Tubes
These party favors are so fun and unique and they are affordable too! Give your guests these funky one-shot tubes of coffee and milk powder featuring a cute personalised message.
They come with a printed tag attached to the tube with rustic twine, as well as a message on the tube itself. The contents look so cool, as they are layered in an aesthetic way.
These clever coffee tube party favors are sure to get a grin out of your guests as they are so unusual! You can also choose between brown or pink twine, to suit the theme of your party.
Coffee Party Favor Bags
These cute coffee party favor bags are a great gift for those who want to present their guests with their own favorite roast.
Order these printed bags to fill with the perfect blend of your choice at home. This is a great way to give the gift of great coffee to your guests in adorable packaging with your own personalised message. Have fun filling them with your favourite coffee to let your friends and family sample your ideal cup!
Add the date of the party or details of your wedding to these bags! They are an excellent affordable choice for party favors as you can save money adding the coffee yourselves.
Personalised Coffee Stirrers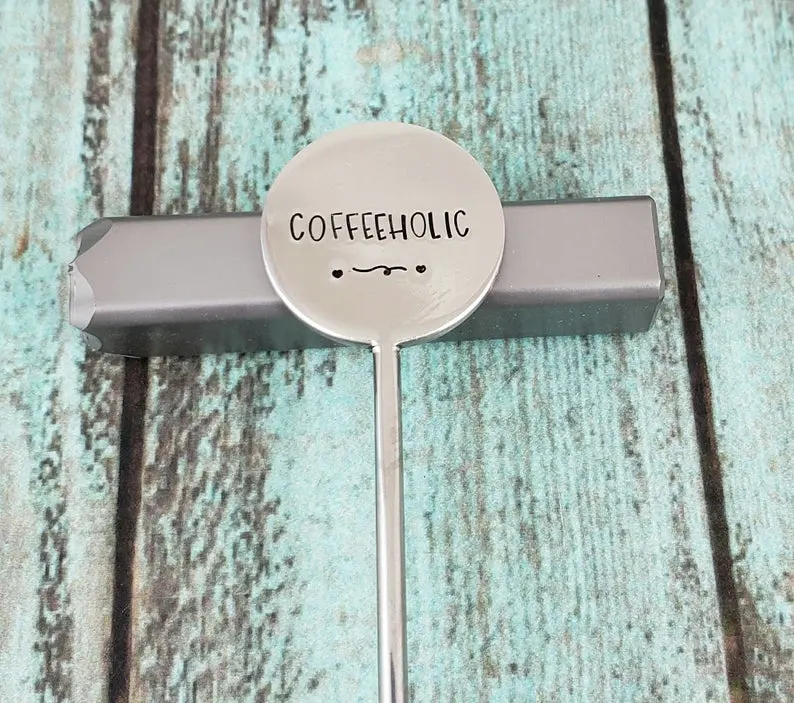 These personalised drinks stirrers are so beautiful, available in a range of colours and fully customisable.
A stirrer is an ideal gift for coffee loving guests as it makes a beautiful addition to lattes and cold brew coffee drinks. The gold mirror finish is particularly beautiful and would stand out in any tall glass.
These are a great idea for summer time parties where you will be serving cold coffee and fancy lattes. Add a decadent detail to your beverages or pop these into a party bag featuring a personalised message for your guests to take home.
Coffee Tins
Give the funky gift of personalised coffee tins to your party guests for them to take home and keep in their kitchens – or at work! Available on their own or with a 150g bag of freshly ground coffee these fun tins are sure to be a welcome gift.
The tins are customisable, with the label available in a range of colours to suit the theme of your party. If you select the coffee bag option your guest will receive an omni ground coffee – a universal grind that you can use in a french press, aeropress, filter machine etc – wow!
Coffee Candles
The scent of coffee is universally enjoyed. Rich, smokey and mouth watering, give your friends and family the gift of coffee scent candles (made with real coffee beans)!
These gorgeous coffee scented candles make for a really unique gift your guests will be able to enjoy over time. Each evening when they set the candle to burn they'll be reminded of your day! Handmade with soy wax these candles create the perfect coffee shop scent.
Make sure your guests burn these on a plate or in a candle holder as the little beans will melt with the wax.
Coffee Travel Mugs
Coffee travel mugs with the personal touch of a custom message are a great gift for your party guests. Add a message about the day or the dates and names of yourself and your partner if it's a wedding favor!
Travel mugs are great as they are practical and everyone needs one. Whether your guests enjoy coffee or tea (or a hot soup!) a travel mug is a great choice for the morning commute, a hike or a road trip.
This is a great party favor your guests will enjoy for years to come.
Homemade Coffee Themed Party Favors
Gifting homemade party favors is also a good viable option for adding a personal touch at the end of your event. Send your guest home with a little something to remember the day by, personally created by you.
Why Gift Homemade Party Favors?
Homemade party favors are great for the following reasons:
Ideal if you are on a budget. Craft some cute favors at home without having to splurge.
Homemade party favors are more personal. Depending on your guest list, your close friends and family may prefer something homemade by you
If you really enjoy making things. Having a crafting streak is so much fun!
Here are 7 homemade coffee themed party favors ideas to provide you with inspiration for your day…
Coffee Cake
Coffee cake is the perfect sweet treat to finish a party with. Bake your own using tasty coffee and don't forget the coffee flavoured cream for the centre.
Gift your guests with an individually wrapped slice each to take home as an edible party favor!
Coffee Chocolate
Make your own coffee chocolate at home and present each set in a little cellophane wrapped packet tied up with twine.
Coffee Cookies
Bake a batch of coffee flavoured cookies at home and stack a few for each of your guests in a little bag to take home. Decorate the bag with twine and a label with each of their names on!
Coffee Potpourri Bags
Dispense organic coffee beans into tiny muslin bags to create mini coffee scented potpourri favors! Your guest can keep these in their sock drawer for wonderfully coffee scented clothing, or in their desk drawer for the at-home coffee shop scent experience.
Hand Painted Coffee Mugs
If you're crafty and you enjoy painting ceramics why not paint the name of each of your guests on a plain ceramic mug for them to take home at the end of the party. A personalised mug is always a welcome gift!
Homemade Coffee Candles
Making candles at home isn't as difficult as it sounds. Why not experiment making lovely coffee scented candles at home in your kitchen as party favors for your guests! Alternatively, try making smaller wax melts if you want a slightly easier project.
Grind Your Own Blend and Gift it in Pouches
Purchase some espresso beans from a local roaster and try mixing different kinds to perfect your own blend. When the day of your party comes, scoop your own personalised blend into little bags and hand them out to your coffee loving pals as a fun party favor.
Thank you for reading this coffee-themed party favors guide – we hope you feel inspired to shop for party favors or create your own!